Guerrilla post
Just some of the links I've made notes of.
Not suitable for Truth Deniers

Bob Moran: Stand Firm
48 hours left to keep Perth Truth Seekers active
Perth Truth Seekers still needs an organizer. Without a leader, it will shut down in 48 hours. Be the leader your community needs.
Organizing a group on Meetup is easy. Meetup has the tools you need to thrive. You can even recruit a co-organizer or leadership team to help.
Meetup organizers have reported the following benefits of leading a group:
A larger network
A deeper connection with their passions
A sense of purpose
More friends
Job opportunities
New skills
Don't miss your last chance to keep this community connected. Become an organizer today!
Got questions? We're here to help! Send us an email at support@meetup.com
The Travel Mask Mandate is Over!
Public Health admits it has no data about COVID outbreaks on airplanes
Because why would we need data before banning the unvaccinated from planes and trains in Canada?
Documentation and more here:
https://www.rebelnews.com/public_health_admits_it_has_no_data_about_covid_outbreaks_on_airplanes
Candace Owens sorts out and gives notice to the raving mask freaks in media and government that cannot stop their insane duplicity:
Richie is joined by Gearóid Ó Colmáín.
Gearóid is a journalist, broadcaster and columnist for Al Mayadeen English.
Today, Gearóid discusses the French Presidential election. He assesses the chances of centre-right candidate Marine Le Pen of causing an upset and beating the incumbent Emmanuel Macron. Gearóid explains why Macron is the candidate of The Great Reset agenda.
Little is known about Macron's wife Brigitte Macron. In fact, there are some incredibly bizarre theories about her. Some of these theories are breaking into the mainstream. Gearóid attempts to separate the facts from the fiction. Do not miss this.
For more on Gearóid Ó Colmáin go here:
https://english.almayadeen.net/authors/1491512/gear%C3%B3id-%C3%B3-colm%C3%A1in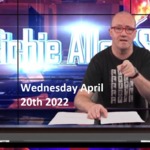 Episode 111 – Interview With ANR's Western Australian Correspondent Mark Rowley Re Dictator – (Skid)Mark McGowan
Dr Robin Wakeling is back to present round 2 of Pfizer Under The Microscope. 🔬
He's been working with other teams around New Zealand who are attempting to elucidate just what is contained in these jabs.
Exclusively, in this video, he examines the blood of the injected and finds something he has never seen before. The teams have also been examining flu vaccines and have discovered some startling results in these vials…
Psst….Pfizer-Injected Blood Under The Microscope
https://odysee.com/pfizer-injected-blood-under-the-microscope:611d99c7031861d2e44f81a96a2622cba194bdeb
Karen Hunt aka KH Mezek California's 10 Psychotic Vaccine Bills & Why They Matter to Everyone, Everywhere
A quick look at how these bills represent the global agenda
https://khmezek.substack.com/p/californias-10-psychotic-vaccine-e5a
Amazing Polly: Permission to Breathe Freely, Sir?
Bob Moran is producing free political cartoons for The Democracy Fund
https://www.rebelnews.com/bob_moran_is_producing_free_political_cartoons_for_the_democracy_fund
Frontline Flash™ Daily Dose: '15 Tennis Players Drop Out' with Dr. Peterson Pierre
Retired Swiss Military-Intelligence Officer: 'Is it Possible to Actually Know What Has Been And is Going on in Ukraine?'
https://www.sott.net/article/466340-Retired-Swiss-Military-Intelligence-Officer-Is-it-Possible-to-Actually-Know-What-Has-Been-And-is-Going-on-in-Ukraine
Hopkins. Open mic in LA. We need to BRING IT. Every damn day
AustraliaOne Party – Join us in Canberra this ANZAC day
Reignite Democracy Australia:
Print your OWN How-to-vote-cards
How To Vote Responsibly
One Nation Australia: https://www.youtube.com/c/PaulineHansonsPleaseExplain
Can I Vote In Pen? Can The Unvaxxed Vote? Pauline Answers Your Questions
Richie is joined by Joy Warren and Maryam Henein.
The UK government has launched a consultation into fluoridating the nation's entire water supply. To discuss this, Richie is joined by Joy Warren. Joy is the joint coordinator of the UK Freedom from Fluoride Alliance.
Maryam Henein is an investigative journalist, documentary filmmaker and an expert in functional medicine. She has written a compelling series of articles on the Covid jabs. Maryam has delved into what the jabs actually are, what they really do to the human body and why she believes they are part of a transhumanist agenda. Don't miss this.
https://givesendgo.com/MaryamHenein
The Voices Schizophrenic's Hear Are Not Hallucinations – They are Very Real!
The Great Reset: It Begins
I've been using Proton Mail and it's proving to be better than the others I've used.
I've joined their referral programme.
21st and 22nd May
***
also
***Please be sure to check out Nexus Magazine's rolling Alternative News Project (in the right-hand side bar). It is constantly updated, several times a day.