WELCOME to Howlin' at the Moon.
UPDATED SEVERAL TIMES A DAY
(Please scroll to bottom of page to view all current posts)
You may need to REFRESH this page.
Not suitable for Truth Deniers
The B&M Christmas 1984 song has been found:
I'm in the masquerade packed B&M shop this morning. As per always, except once, maybe twice, round here, the only one in whatever shop, without a MK and an arse in between ('mask' if you don't get it). The store is playing Christmas music…one comes on that I hadn't heard before, an upbeat swing, could have been Dean Martin, but wasn't. The hook in the chorus is "It's Christmas 1984" – I was grinning, punching the air, and almost cheering out very loudly as more lyrics poured out to the damned the situation… but it looked like not one other person in the shop clocked it. Bulging eyes, grim disposition, they just shuffled in their automaton lines around the aisles casting a steely glare as they came anywhere near me.

Da!Da!! Thanks to W. Here's the B&M Christmas 1984 song:
It's the lyrics and (I like to suppose) the laudable front, of whoever whacked it on the system that drove the message and the glee in me. Intentional or not, WELL DONE YOU – what you have done is God's work.
Great stuff, The Seavers!
Thanks W
This new Organisation, Parents with Questions, is not here to judge anyone or force information down anyone's throats. They are here simply to provide answers to curious parents.
See all their contact details here – www.reignitedemocracyaustralia.com.au/do-you-have-questions
This is poignant…and people are losing their jobs, their homes, all their pension!
While billionaires, shareholders, collaborators and pharmaceutical company employees and enablers, feather their vile nests, cheer for more misery and despair, and contribute to the extermination.  Such evil is abroad and its supporters are legion. They expose themselves.
God's winnowing needed doing.
A WestJet Christmas Story. Share this widely!
Greetings,
Scientists have recently published information about the nano technology they have observed inside COVID vaccines. This is very disturbing. I have written to my MP about this, and the information is summarised in this email …
Dear Gerald Jones (MP),
I have done a great deal of research into the injection programme and the possible true reason for it. It is clear that the injections do not do what the makers claim, i.e. protect people from some imaginary virus. Many scientists have now examined the contents of the vaccines under powerful electron microscopes, and studies conclude that Graphine Oxide (or Hydroxide) is present within the vaccines. Graphene Oxide is a man made nano material and is toxic to the human body. It is undoubtedly one of the main reasons for the 1.3 million UK adverse reactions. You can find details of the adverse vaccine reactions from the governments own data here …https://yellowcard.ukcolumn.org/yellow-card-reports
morgancjonas:
News and current events
– Daniel Andrews ordered to appear in court for alleged treason
– Scomo referred to Australians as 'sheep'
– Christine Anderson MEP makes bold stand against tyranny
– QLD police commissioner Katrina Carroll warns unvaccinated against sneezing, threatens fines and jail time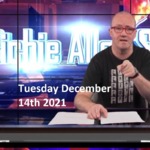 Richie is joined by John Klyczek and Councillor Jim Rogerson.
John Klyczek is a teacher and the author of the outstanding and essential "School World Order: The Technocratic Globalization of Corporatized Education." He's also a contributor to Unlimited Hangout. John discusses vaccine mandates and covid measures in his native Illinois. He also talks about blockchain digital ID's, social crediting and the possibility of a financial collapse preceding the introduction of a centralised digital currency.
www.schoolworldorder.info
Councilor Jim Rogerson is a popular and vastly experienced public servant. He's served the people of Ribble Valley in Lancashire for nearly three decades. Jim tells Richie why he chose to resign from the Conservative Party over its covid-19 response. Jim also explains why he believes that covid is a power grab by global elites and why the vaccine roll-out will kill a lot of people in 2022.  Do not miss this.
Jon Rappoport, No More Fake News:
"Attorney Thomas Renz and CMS [Centers for Medicare & Medicaid Services] whistleblowers have calculated a total [federal] payment [to hospitals] of at least $100,000 per [COVID] patient."
David Noakes released:
Brian Shilhavy, Editor, Health Impact News: Scott Tips, President of the National Health Freedom Federation, is reporting that Dr. David Noakes was released from prison today in France, where he had been confined for the past 18 months in a nine-square-meter prison cell 22 hours out of 24 hours a day.
His crime? He cured over 10,000 people from cancer with a product called GcMAF.
The French Pharmacists' Union didn't like that as they apparently believe all cancer patients should only use their chemotherapy drugs, and so he was sentenced to 4 years in prison.
Sure, go ahead and read that again. He was imprisoned NOT for killing or harming people, but for curing people and being accused of taking away business from the pharmaceutical industry.
George Christensen, Nation First: Yesterday, I spoke with Julian Assange's mother, Christine about the unfolding situation surrounding her son. Not only did a foreign court recently rule that her son — an Australian citizen — could be extradited to a foreign nation to face trumped-up charges, but news came out that he had suffered a mini-stroke during the extradition hearing. This follows revelations that the CIA tried to have her son killed. Sending him to the USA may yet end up resulting in his death. You might recall that I pointed out last year that the current resident of the White House Joe Biden referred to
Reignite Democracy Australia: If you pay property rates or rent, your money directly contributes to the maintenance and infrastructure in your local community. You have every right to have full access to those amenities, no matter what your vaccination status is.
However, all over Australia local councils are beginning to shut out community members who have chosen not to have a Covid-19 injection.
Your local council is funded by YOUR money. Any extra money they need comes from the Government, which is funded by YOUR money.
You have PAID FOR these facilities. If you can't use them, you shouldn't have to pay for them. Simple as that, don't you think?
We have written a very polite but assertive letter for you to download and edit however you like and submit to your local Council. This strategy is simple but has the potential to make a big impact.
* I'm sure this would be suitable for everywhere in the world. – Ellis
Jerm Warfare:
Dustin Broadbery is an investigative journalist and blogger.
He wrote an incredible piece, published by Off-Guardian, called The Anatomy Of A Cult.
But the fact that humanity is in an abusive relationship with its governments, is only one part of the problem. There's a long history of cults infiltrating polite society. The cult of personality of Lenin and later Stalin once captured an entire nation. But never in history has the entire world fallen to a cult.
Dustin joined me, on my podcast, to discuss
[includes VIDEO & AUDIO]
Jerm Warfare:
Smart Cities are a terrible idea.
Yesterday I had a conversation with Robin Monotti about why we should not buy into the concept.
Robin is an award-winning Italian architect and filmmaker, and close friend of Eric Clapton.
His work is beautiful, but so is his mind. For example, take a look at The Book Of Vision, the film he cites during our conversation.
Adding to that, Robin discusses
I dislike the idea of Smart Cities, which are designed from the top down, and are focused on technology and surveillance and centralised control.
They are too clinical and completely lack personality.
Biourbanism is just fancy label for what humans have done for centuries, from beautiful architecture to tradition, to locally grown food to the celebration of communities.
[includes VIDEO & AUDIO]
Biourbanism Versus the Smart City
More to follow
***
I have just joined twitter
if you'd like to join me
***
also
***Please be sure to check out Nexus Magazine's rolling Alternative News Project (in the right-hand side bar). It is constantly updated, several times a day.